In the world of rail transport, certain locomotives have managed to etch their names into the annals of history, becoming synonymous with reliability, versatility, and timeless design. Among these, the Class 47 locomotive stands as a symbol of enduring excellence, a workhorse that has withstood the test of time and left an indelible mark on the railway industry.
A Brief Overview:
The Class 47 locomotive, also known as the Brush Type 4, was first introduced in 1962 by Brush Traction, a British engineering company. Designed as a versatile diesel-electric locomotive, the Class 47 quickly gained popularity due to its robustness and adaptability. It became a mainstay of British Rail's operations and was known for its distinctive shape, featuring a characteristic nose cone that became its signature.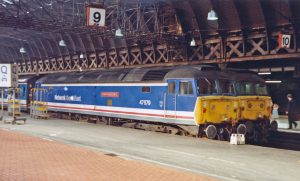 Reliability and Versatility:
One of the defining features of the Class 47 locomotive was its reliability. Built with a strong and sturdy construction, the locomotive proved its mettle in various roles across the United Kingdom's rail network. From passenger services to freight hauling, the Class 47 displayed its remarkable versatility, effortlessly transitioning between different types of operations.
This adaptability was made possible by the locomotive's advanced engineering, featuring a reliable diesel-electric powerplant that could deliver substantial horsepower. This enabled the Class 47 to handle heavy freight trains, high-speed passenger services, and everything in between. The locomotive's dependability earned it the nickname "Growler" among railway personnel, a nod to its distinctive engine sound that echoed through stations and countryside alike.
An Evolution of Design:
Over its extensive service life, the Class 47 underwent various modifications and upgrades. These changes not only improved its performance but also extended its operational lifespan. While retaining its iconic exterior shape, internal advancements such as upgraded electronics and enhanced traction control systems allowed the locomotive to maintain its relevance in a changing rail industry.
Despite the march of time and the emergence of more modern locomotives, the Class 47's enduring appeal saw it remain in service far longer than originally anticipated. The locomotive became a testament to the principles of sturdy engineering and the art of incremental innovation.
Cultural Impact:
Beyond its technical attributes, the Class 47 had a significant cultural impact. For many enthusiasts and members of the public, the locomotive became a cherished icon of British rail history. Its distinct appearance made it instantly recognizable, and its appearances in various liveries over the years marked different eras of railway development.
Railway enthusiasts would often gather to witness the Class 47 in action, its distinctive growl and iconic shape creating a sense of nostalgia and connection to a bygone era of rail travel. Model railway enthusiasts also found inspiration in the Class 47, with miniature replicas of the locomotive becoming sought-after collector's items.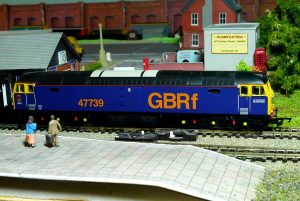 Legacy and Preservation:
As the years rolled on, the Class 47 eventually began to phase out of mainstream service. However, rather than fading into obscurity, it found a new lease on life through preservation efforts. Several locomotives were saved from the scrapyard and lovingly restored by railway preservation groups and individuals.
These restored Class 47 locomotives now operate on heritage railways, allowing new generations to experience the power and majesty of these machines. The preservation of these locomotives serves as a testament to the enduring appeal of the Class 47 and the dedication of railway enthusiasts to preserving the rich history of rail transport.
The Class 47 locomotive's legacy is one of resilience, adaptability, and cultural significance. It carved a lasting niche in the world of rail transport, leaving an indelible mark on the British rail industry and capturing the hearts of enthusiasts along the way. Its timeless design, unmistakable growl, and ability to seamlessly switch between roles underscore its status as a true icon of locomotive engineering.
As we reflect on the Class 47's journey through time, we are reminded that the spirit of innovation and enduring design can transcend generations. The locomotive stands as a reminder that even in the face of technological advancements, there will always be a place for the stalwart workhorses that have shaped our history and continue to inspire our future.
When was the last time you travelled on a class 47? Let us know in the comments below. For more article on traction from all around the UK click here. For our Youtube channel click here.