Introduction
The Class 91 is an electric locomotive used for passenger train services in the United Kingdom. It was introduced in 1988 by British Rail and was originally built to operate on the East Coast Main Line (ECML) between London and Edinburgh.
The Class 91 locomotive has a top speed of 140 mph and is capable of hauling trains up to 775 tonnes. It is a very powerful and reliable locomotive that has been in service for over 30 years. The Class 91 is often used to haul the famous InterCity 225 trains, which are one of the fastest trains in the UK.
Technological Link
One of the interesting aspects of the Class 91 locomotive is its link to the Class 370 from which it borrowed a lot of its design aspects. Despite the cancellation of the Class 370 project, its design had a significant impact on the development of the Class 91 locomotive. Many of the features that were planned for the Class 370, such as the aerodynamic design and the use of advanced materials, were incorporated into the Class 91.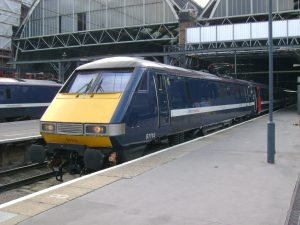 The Class 91 locomotive has been a very successful train for the UK, and it continues to be used for high-speed passenger services on the ECML. It is a testament to the ingenuity of the designers who incorporated the advanced features of the Class 370 into the Class 91 locomotive.
In conclusion, the Class 91 locomotive is an impressive electric locomotive that has served the UK well for over 30 years. Its design was heavily influenced by the Class 370 project, which was intended to be the fastest train in the world. Although the Class 370 was never put into main stream service, its impact on the design of the Class 91 shows the importance of innovation and the pursuit of speed in the railway industry.